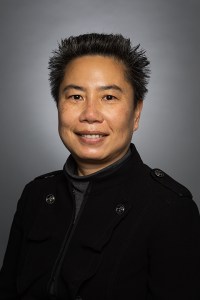 Hello Mizzou TAM friends and families,
Fall 2022 came and went so fast! We had so much to celebrate and so much to congratulate. In our new College of Arts & Science, the Department of Textile and Apparel Management (TAM) continues to become the "Innovative Leaders in the Global Fashion Supply Chain: Where students learn both the art and science of the fashion industry!"
In September, we welcomed more than 130 guests to our first anniversary events in the College of Arts & Science! We opened up all of our labs and showcased student work after completing technology updates in our labs funded by the Provost's Student Success programs. Nearly 90 people came to our reception event in which we honored the last 121 years of legacy as a unit in the College of Human Environmental Sciences. We also looked into the next 121 or more years of the department as a unit in the College of Arts & Science – the oldest and the largest college on the campus! The event was indeed huge success, and we all were really excited to meet TAM alumni, supporters, and families. Thank you all for taking your time to come and celebrate TAM's past, present and future! Please check out the YouTube videos and you will definitely see Dean Drury wearing the complete set of the Mizzou Plaid Kilt!
Six young alumni talked to our students and shared their career experiences and wisdom in October. Thank you, Emilee Dent, Darien Lee, Bethany Hammerstone, Alex Seay, Colton Smith, and Lydia Youngworth-Dilworth! Your success is our success! You are true role models for our students.
This year's career fair was one of the most successful fairs we ever had! Fifteen companies came, and more than 100 students participated! I know they all are getting their internship and job opportunities!
Two TAM students will receive the scholarship from Fashion Scholarship Fund from the national case study competition in 2023. They are: Ryley Struckhoff and Jillian King. They will receive $7,500 scholarship each, and will attend the scholarship gala live in New York City in April 2023.
A TAM senior, Sydney McClintock received Brooks LDT/Brooks Luby Empowerment through Zero Waste Award – Undergraduate for her design titled "The Power of Women" from International Textile and Apparel Association. Professor Cheyenne Smith was her mentor. Raven Smith raised funds to donate to the Molly Miles Organization by selling "Go COMO" t-shirts. Anika Rader is now an undergraduate representative on the Campus Writing Board!
TAM students' designs were used to make an entire line of Champion's Vault collection. So many more student news, so please check our social media.
Speaking of experiential learning, 19 TAM students, Dr. Song-yi Youn and Ha-Brookshire went to New York City in May 2022 – first time since the pandemic! Students visited many different companies and met with alumni. We had Mizzou TAM Happy Hour during that time, and more than 20 alumni came, mentored our current students, and networked. Dean Drury and a few other A&S staff and leaders were at the Happy Hour as well. It was so cool to have them all and catch up. Please watch the whole experience from a video here.
Our graduate students have been busy being recognized, defending dissertation research, and getting jobs. Muzhen Li is now an assistant professor at the University of Kentucky AND Dr. Lida Aflatooni is an assistant professor at Colorado State University. Nicole Eckerson has successfully defended her dissertation as well. Congratulations to Drs. Li, Aflatoony, and Eckerson!
Faculty and students also went to the first-since-the pandemic annual conference meeting of International Textile and Apparel Association, the premier professional organization in the field, in Denver, CO. Wow! Mizzou TAM received so many awards and recognitions. Dr. Li Zhao received the 2022 Rising Star Award, Clothing Textiles Research Journal Best Reviewer Award, and Clothing Textiles Research Journal Most Cited Paper Award! Joohye Hwang, a PhD candidate, received Sara Douglas Fellowship for Professional Promise: Doctoral Students Award, and a former PhD student, Dr. Md. Rafiqual Islam Rana received the Best Student Paper – Doctoral 1st Place award for the research he conducted for his dissertation. His advisor was Dr. Jung Ha-Brookshire. Overall, TAM faculty and students presented 21 research abstracts, three garment designs and hosted two special topic sessions.
Dr. Song-yi Youn has been busy as a new research development fellow, and Dr. Kopot and Dr. McBee-Black have been busy publishing their research manuscripts!
Oh, don't forget! Please check out the Show Me Mizzou article about a look back at more than 100 years of classic Mizzou Memorabilia. Thank you, Nicole Johnston, for getting this ready on behalf of the Missouri Historic Costume and Textile Collection!
We wish you happy holidays and we look forward to catching up with you again in spring 2023. Until then, please do WEAR your TAM Pride!
Jung Ha-Brookshire
Professor and Department Chair
M-I-Z, T-A-M!