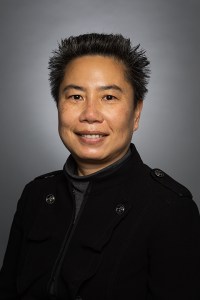 Hello Mizzou TAM friends and families,
Spring 22 was a busy semester! We had so much to celebrate and so much to congratulate. In our new College of Arts and Science, the Department of Textile and Apparel Management (TAM) continues to become the "Innovative Leaders in the Global Fashion Supply Chain: Where students learn both the art and science of the fashion industry!"
Terri Speiser, the President of DKNY Sportswear and DKNY Jeans, received our first ever Distinguished Alumni Award from the College of Arts and Science! She talked to our students about how she has led and is currently leading a global fashion brand during a pandemic. Students learned so much from her. Three young alumni talked to our students and shared their career experiences and wisdom. Thank you, Mackenzie Mattix, Maia Loesche, and Taylor Abernathy! Your success is our success! You are true role models for our students.
Three TAM students received the scholarship from Fashion Scholarship Fund from the national case study competition. They are: Piper Noblit, Taylor Heilman, and Lily Rudman. Not only did they receive $7,500 scholarship each, they also attended the scholarship gala live in New York City in April. Makenna Tourville was recognized as one of the 15 recipients of the 2022 MU Academic Distinction Award. A senior Lexie Schrock was selected to attend the New York Fashion Week in February and her experience was featured in Show Me Mizzou! A TAM senior, Michelle Gershkovich received the 3rd place award with the $5,000 funding from the Mizzou's Entrepreneur Quest program! This semester, we also identified two new TAM Peer Mentors, Sydney McClintock and Mackenna Tourville, and two new TAM social media assistants, Emmy Treadway and Danielle Laue.
For the first time since the pandemic, we had an in-person TAM Industry Advisory Board meeting on campus in March. More than 10 industry board members came to campus, shared their experiences, wisdom and advice with our students. The attendance was fantastic, and the students still talk about how great this opportunity was. Thank you so much for all TAM advisory board members! We look forward to having you back on campus next year.
Speaking of experiential learning, 12 TAM students and Drs. Mestres and Ha-Brookshire went to El Salvador during the spring break in March. Students visited many different manufacturing companies, such as a screen printer, a polyester yarn producer, a knitting factory, a sewing factory and even all hands-off sock manufacturing facilities. Everything students learned from the Science of Textiles class became alive right in front of the students eyes, and they get to feel, touch, smell, and taste textile and apparel manufacturing processes. Please watch the whole experience from a video here.
Our graduate students have been busy being recognized, defending dissertation research, and getting jobs. Cydni Robertson and Rafiqul Islam Rana were honored as two of Mizzou 18! Cydni Robertson will move to Ohio State University to be a post-doc student. Rafiqul Rana will be an assistant professor (tenure/tenure track) at University of South Carolina this fall. Lida Aflatoony has accepted an offer from Colorado State University as an assistant professor (tenure/tenure track). Ashten Lorts will start her post-graduate career as a Merchandise Buyer at the Club at Old Hawthorne. More students' jobs are currently being finalized so we will give you additional updates in the next newsletter.
Our faculty members are just terrific. Dr. Li Zhao was named to be the 2022 Rising Star Award recipient from International Textile and Apparel Association, the premier professional organization in the field. She is also named to be an affiliate faculty member at MU Institute for Data Science and Informatics in spring 22. Dr. Kerri McBee-Black is also now an Affiliate Faculty Member in the Department of Women's and Gender Studies, and conducting several research projects with Gamut Management. Dr. Song-yi Youn is selected to be part of the Early Career Research Development Fellow program offered by the Office of Research and Economic Development at MU, and she also received the A&S Research Fellowship Program. Dr. Mestres received the College of Arts and Science's Chalk Award, and Cheyenne Smith has been working with the University Licensing office for her students to design a new Champion Vault collection, which will be in the bookstore in fall 22. Dr. Caroline Kopot has been working with American Outdoor Brands to bring real-life examples to our Digital Merchandising class. Finally, but not lastly, the student committee selected both Nicolette Leiby and Cheyenne Smith for the Langsam Family Faculty Appreciation award for their excellent teaching and mentorship! Thank you, Langsam Family for your support for TAM faculty and students!
Oh, don't forget, please! MOda 200: Missouri Style Makers, Merchants and Memories is on display through June 2022 at the Center for Missouri Studies Art Gallery of the State Historical Society of Missouri! Thank you, Nicole Johnston, for getting this ready on behalf of the Missouri Historic Costume and Textile Collection!
Have a wonderful semester! And We look forward to catching up with you again in fall with our new Mizzou TAM Tigers! Until then, please do WEAR your TAM Pride!
Jung Ha-Brookshire
Professor and Department Chair
M-I-Z, T-A-M!