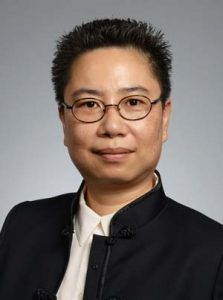 Hello Mizzou TAM friends and families,
Fall 2021 was the first semester for the Department of Textile and Apparel Management (TAM) to operate in the College of Arts and Science, the largest college on the campus. TAM continues to become the "Innovative Leaders in the Global Fashion Supply Chain: Where students learn both the art and science of the fashion industry!"
It has been a busy semester. We welcomed two new faculty members, Cheyenne Smith (assistant teaching professor) and Nicolette Leiby (instructor and advisor). TAM officially launched a unique Graduate Certificate in Digital Merchandising and students started taking classes.
TAM alumna Zoë Bednar, Loren Thompson-Seyon, and Taylor Cohen shared their professional experiences with TAM students in the Young Alumni Speaker Series, and Laura Bozoian, the Vice President of Production in Kendra Scott, came to campus as a TAM's Executive in Resident to mentor TAM students.
Eleven students graduated and attended an in-person commencement ceremony in December 2021 and three of them were recognized as outstanding seniors. Please check out Gabby Krimmel, Alexa Leininger, and Collin Shirley.
Our faculty and graduate students' research continue garnering a national attention. Dr. McBee-Black's research was featured in a Washington Post article, Dr. Song-yi Youn and Dr. McBee-Black received $30,000 from Cotton Incorporated for their teaching and research project (Title: Sustainable Cotton Going to Digital Market: Extending Cotton Sustainability to the Digital Marketplace Through a Situation-Based Learning Opportunity). Dr. Li Zhao was celebrated on World Teacher Day.
Cydni Robertson, a PhD candidate spent a year in El Salvador with her Fulbright Scholar award, and appeared on the local television show, Channel 21, Diálogo with Ernesto Lopez, and Md. Rafiqul Islam Rana, a PhD candidate, received the prestigious Raymond White and Gamma Alpha Gamma Dissertation Year Fellowships from the MU Graduate School.
The Missouri Historic Costume and Textile Collection was also busy with many exhibits and activities across the state and the nation, and in fall 2021, it was recognized internationally!
Among so many things, we are so proud of TAM's achievement at this year's International Textile and Apparel Association conference. TAM faculty and graduate students received so many awards and recognitions, including my Distinguished Scholar Award. So, please do check out our social media and share your pride.
I have been a proud member of Mizzou TAM, and I look forward to engaging with you through Facebook, Instagram, and LinkedIn!
M-I-Z, T-A-M!
Department Chair and Professor,
Jung Ha-Brookshire