Senior Annika Rader is exploring history through closets of the past.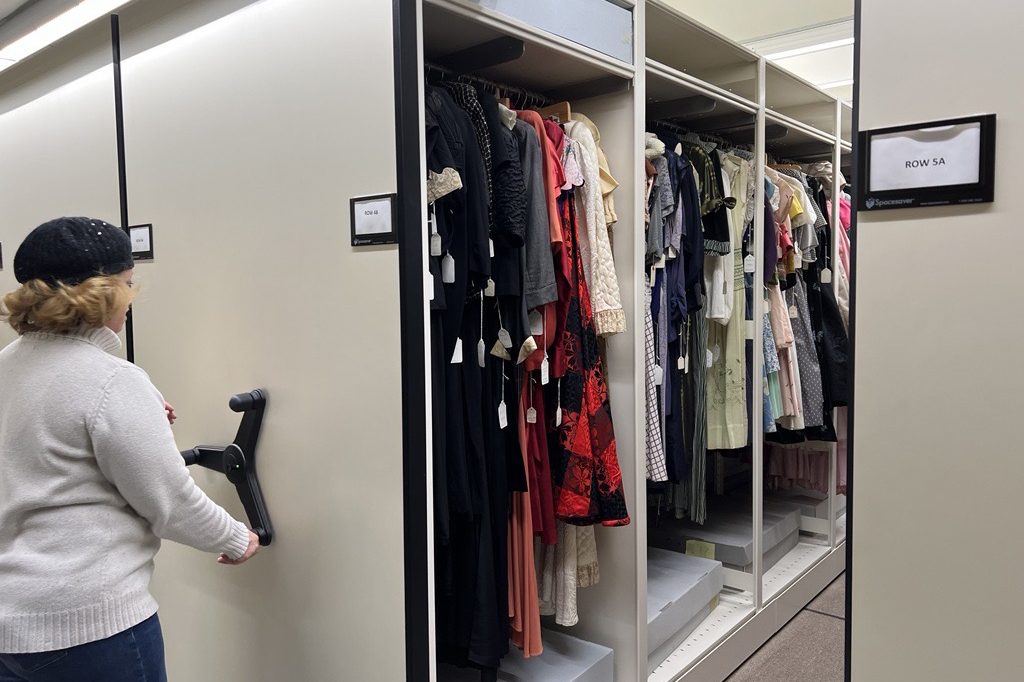 Feb. 25, 2022
Contact: Deidra Ashley, ashleyde@missouri.edu
Among the thousands of students who call the University of Missouri home, few have an on-campus closet like the one Annika Rader has access to. The senior textile and apparel management major from Cedar Rapids, Iowa, is a collection assistant at the Missouri Historic Costume and Textile Collection (MHCTC). There, she works with more than 7,000 vintage dress and textile artifacts dating back to the 1800s.
Although she doesn't don the garments she works with every day, Rader's experience studying and cataloguing them is helping prepare her for a career in fashion — one focused on the stories contained in threads of the past.
Sew much fun
Rader first learned about the MHCTC when she was a junior working with Curator Nicole Johnston's History of Dress class. There, Rader acted as a peer learning assistant (PLA) — supporting students of the class and Johnston both inside and outside of the classroom.
"I got a glimpse into the collection because of my role as a PLA," Rader said. "Toward the end of the semester, I asked Nicole if she needed like an assistant in the collection since she didn't have one. I was really interested in doing it because I really liked everything I had seen, and I wanted to learn more."
Johnston was thrilled at Rader's enthusiasm and reinstated the assistant position for her.
"I was happy to re-open the position for Annika because there's a much stronger connection to learning when you get to handle and touch something or see it in person," Johnston said. "It enhances the learning experience."
As a collection assistant, Rader helps select items for in-class use, tags, catalogues and photographs the clothing and assists Johnston in curating and executing exhibitions.
"She's experiencing the gamut — the joys and agonies — of collection work," Johnston said. "It's an example of the hands-on experience that students get working at Mizzou and working with objects like that."
Rader said one of the greatest lessons she's learned in her role, though, is that each piece of clothing tells a story and helps us understand history.
"A piece of clothing is so much more than just what color or size it is," Rader said. "It gives a whole different view on not just the past, but also the present. Each piece informs us about society and the trends of the time, and I feel so grateful to be able to learn all the unique stories behind the garments in the collection."
Cut from the same cloth
One of Rader's favorite parts of her job is dressing mannequins. She said it helps her see the garment in its truest form.
"I love when we dress the mannequins because it makes them come alive," Rader said. "You put them on a human form and all of a sudden, they're what they were always meant to be."
Often, dressing the mannequins is a two-person job. Due to this, Johnston and Rader spend a lot of time together and have developed a close working relationship — so much so that they were once mistaken as family.
"On a photoshoot for an upcoming MIZZOU magazine feature on our Ginger Rogers pieces, we dressed and undressed the mannequins frequently," Johnston said. "Annika so comprehensively knew all the things I needed that the photographer asked if I was her mom."
Their connection, forged through time and proximity, is also a natural one.
"Nicole and I had an immediate bond, which is partially why I wanted to work in the collection," Rader said. "Now she's even met my family and they've toured the collection."
Right off the rack
Rader said the support she's received from Johnston has enhanced her time at Mizzou.
"It's really cool to have a resource like Nicole on campus," said Rader. "She has become a mentor to me, someone I turn to for advice, and a friend. I feel extremely grateful for our relationship and it has really enhanced my time at Mizzou."
Because of her experience working with Johnston and the collection, Rader hopes to pursue a career working with nostalgic clothing.
"Working in the collection has definitely changed my goals," Rader said. "I am now so passionate about learning history through garments, and I hope to continue working with historical clothes when I graduate."

Story written by Madalyn Murry
Learn more about the Missouri Historic Costume and Textile Collection