Check out the latest addition to the Mizzou Store — a mirror featuring Truman on demand.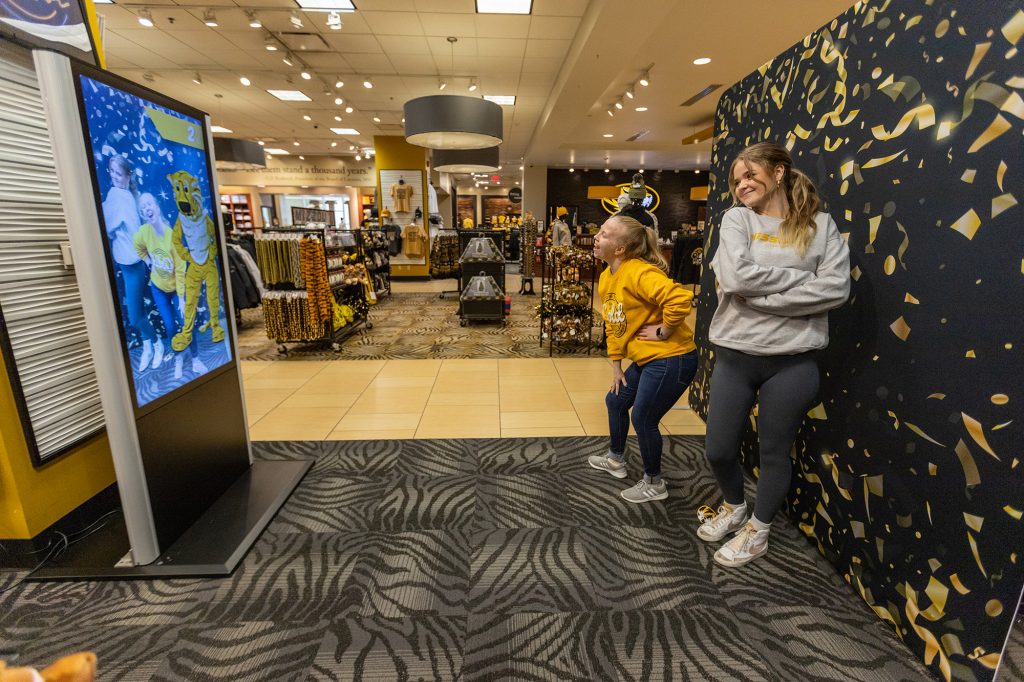 Jan. 30, 2023
Contact: Deidra Ashley, ashleyde@missouri.edu
Photo by Abbie Lankitus
You can now hang out with Truman any time you're at the MU Student Center. The University of Missouri Department of Textile and Apparel Management (TAM) recently partnered with The Mizzou Store to bring the Mizzou Mirror, an in-store augmented reality experience, to life.
The Mizzou Mirror gives visitors the chance to take a photo with Truman and instantly share it on social media platforms.
It's part of a student-led project through the Association of Textile and Apparel Management. Headed by sophomore Olivia Aker, the project promotes hands-on learning in visual merchandising, consumer engagement and data analytics.
"I'm very excited to see my work come to life," Aker said. "This type of highly visible project helps recruit new TAM students by showing them the types of opportunities our program offers. It feels good to know I'm a part of the beginning of a long-lasting project within my college and at the university level."
Jung Ha-Brookshire, a professor and the TAM department chair, helps lead the student group. She said this is just the beginning in terms of ways the mirror will provide hands-on learning to enhance the student experience.
"I hope that our students will ultimately use this to become better problem solvers and decisionmakers for their future profession," said Ha-Brookshire. "The students will observe what people do with the mirror and how to engage them in the store. They will also be figuring out how we can promote more Mizzou Store projects to people while they are in the store."
You can visit the mirror in the Mizzou Store during regular store business hours.
Story written by Madalyn Murry
Get involved
Join the Association of Textile and Apparent Management (ATAM) to have to opportunity to join the Mizzou Mirror committee. ATAM is open to all majors.