The Kellwood Apparel Technology Lab is equipped with industrial sewing machines and other specialized industrial equipment. Over 30 body forms of men, women and children are available. This hands-on training and demonstration facility is utilized by university students and industry personnel.
The lab was originally funded by the Kellwood company in 2008. In 2022, the department updated this lab with the latest sewing machine, high quality camera, and zoom-ready technologies.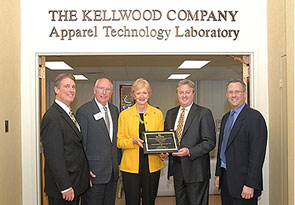 Steve Jorgensen, then-HES dean; James Jacobsen, former Kellwood executive; Kitty Dickerson, former department chair of TAM; Michael Kramer, CEO and president of the Kellwood Co; Scott Mannis, Kellwood executive.
List of Donors
Angelica Corporation
Beaver Paper Company
Byte Systems
EDS
Gerber Technology
Hagale Manufacturing
Haggar Apparel Company
JCPenney
Kellwood
Lee Company
May Merchandising
Riverside Manufacturing Company
Russell Corporation
Sunbrand
Singer
Sewing Machine Service and Supply
Thomaston Mills
Quick Rotan, Inc.
Textile/Clothing Technology Corporation
Union Special
Unitog