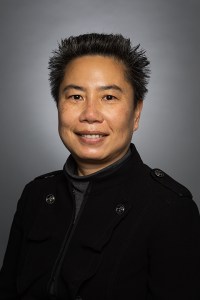 Professor and Department Chair of Textile and Apparel Management 
---
Education
PhD, University of North Carolina at Greensboro; MBA, Baruch College, City University of New York; BS, Seoul National University; AAS, Fashion Institute of Technology.
---
Textbook
Global Sourcing in the Textile and Apparel Industry
---
Bio
Dr. Jung E. Ha-Brookshire is the Department Chair and a Professor in the Department of Textile and Apparel Management. Prior to her time at MU, Dr. Ha-Brookshire worked as a production assistant, production coordinator, production manager, and sourcing manager for Adjmi Apparel Group and Richard Leeds International, Inc. in New York City for over 8 years. During her time in NYC, she extensively traveled to various countries in Asia and Central America for textile and apparel product sourcing, product development, production coordination, and quality assurance. At MU, she taught global sourcing and the capstone for retail marketing and merchandising students. She currently teaches global supply chain management and theory development & evaluation courses at the graduate level. She received several awards, including Distinguished Scholar Award in 2021 from the International Textile and Apparel Association, Kemper Excellence for Teaching Award in 2017 from MU, Fulbright Core Scholar award in 2015 from the US Department of State, 2011 Rising Star award by International Textile and Apparel Association (ITAA), 2010 Excellence in Education award by MU Division of Student Affairs, and more. She has completed a number of internal and external grants, over $500,000. She has published over 65 manuscripts in peer review journals, 7 book chapters, and presented her research over 100 times at various international, national, and regional conferences. She is an author of a textbook, Global Sourcing in the Textile and Apparel Industry. She has consulted US Trade Representative and Department of Commerce for trade facilitations and capacity strengthening in the Northern Triangle Area of the Central America since 2017. She served as the Vice President of Operations (2015-2017) and the Vice President of Publications (2019-2021), and she is named to be the President Elect (2023), the President (2024), and the Counselor (2025) for International Textiles and Apparel Association.
---
Research Interests
Dr. Jung Ha-Brookshire's primary research interests originate from her professional experience as a production/sourcing manager in NYC. The areas of her research interests include moral responsibility of corporate sustainability, global supply chain and sourcing strategies, sustainable production and consumption of textile and apparel, and firm/industry identity issues. She utilizes both qualitative and quantitative research tools.
---
Awards
Distinguished Scholar Award in 2021 from the International Textile and Apparel Association
William T. Kemper Fellowship for Teaching Excellence – 2017
Fulbright Scholarship, The J. William Fulbright Foreign Scholarship Board – 2015
Gold Chalk Award for Teaching Excellence, MU Graduate Professional Council – 2014
Clothing and Textiles Research Journal Reviewer Award, International Textile and Apparel Association – 2013
Rising Star Award, International Textile and Apparel Association – 2011
Excellence in Education Award, MU Division of Student Affairs -2010
Professor of the Year, MU Student-Athletes' Academics-Athletic Achievement Award – 2009
New Faculty Teaching Scholar – 2008-2009
Langsam Family Outstanding Teaching Award – 2008
International Textiles and Apparel Association Fellowship – 2007
International Textiles and Apparel Association Lois Dickey Fellowship – 2007