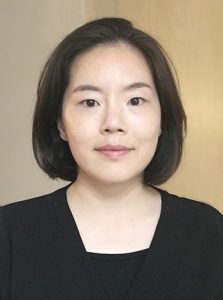 Assistant Professor
130 Stanley Hall
University of Missouri
Columbia, MO 65211
Phone: (573) 882-6410
E-mail: syoun@missouri.edu
Vita (PDF)
---
Education
PhD, Purdue University; PhD, Hanyang University; MS, Hanyang University; BS Hanyang University.
---
Bio
Dr. Song-yi Youn is an Assistant Professor in the Textile and Apparel Management Department at the University of Missouri. She holds a bachelor's degree and master's degree in Clothing and Textiles. She completed PhD in Consumer Behavior and a second PhD in Clothing and Textiles. Dr. Youn brings professional experience as a market analysis in the government agency, Korea Color and Fashion Trend Center. She proposed upcoming fashion trends based on analyzing consumer behaviors and industries in global fashion cities including New York, London, Paris, Milan, Tokyo, Beijing, and Seoul. She participated in product development strategy programs for luxury fashion brands. Also, she taught various courses in South Korea and the United States. Courses include Visual Merchandising, Textiles, Consumer Behavior, Consumer Relational Management, and a Selling and Sales Management Capstone. She brought insights about the apparel market and encouraged students to apply academic knowledge in the real-world settings. Before joining the University of Missouri, she taught Theories and Practices in Apparel Merchandising to graduate students at University of Arkansas as an Adjunct Research Assistant Professor.
---
Research Interests
Dr. Youn's research program focuses on (dis)connected consumers. She approaches the topic from three perspectives. First, her research focuses on the self-concept of connected consumers that motivates consumers to express their identity to others. Research topics include body-image, social-identity, and cultural expressions. Second, she investigates a market-perspective of connected consumers by researching consumers' social network activities and fashion brands' social network communication. Finally, she explores a social perspective of understanding connected, or possibly disconnected, consumers. Connected consumers may take risks associated with potential social problems and exhibit addictive behavior, social isolation, and/or mental health issues. By exploring theses three perspectives of connected, or possibly disconnected, consumers, Dr. Youn's ultimate research goal is to improve our knowledge in consumer behaviors in the technology-driven fashion market and global society.