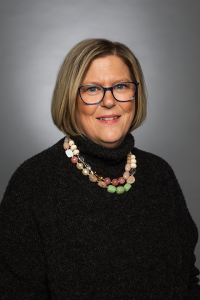 Assistant Professor
137 Stanley Hall
University of Missouri
Columbia, MO 65211
Phone: (573) 882-3849
E-mail: mcbeeblackk@missouri.edu
Vita (PDF)
---
Education
PhD, University of Missouri; MS, University of Missouri; BS, Columbia College.
---
Bio
Dr. McBee-Black (Dr. McB) is an Assistant Professor at the University of Missouri's Textile and Apparel Management Department. Her teaching focuses on integrating the inclusivity of the marginalized consumer into the course content and product development projects. She has taught courses in introduction to design, quality analysis, textile science, consumer behavior, marketing, senior capstone, and technical design. A priority in her teaching is to integrate real-world experiences into class projects to ensure students are prepared for industry expectations. She also prioritizes collaboration with industry partners to serve as a resource to students. Dr. McB has extensive professional experience, including as a childrenswear designer and merchandiser for the William Carter Co. Dr. McB also served as a Production Manager for an Outdoor Company overseeing in-house and contracted production of apparel, bags, and gloves. Before joining the TAM faculty, Dr. McB was the Executive Director of the Alliance for the Status of Missouri Women, a non-profit she helped found to support improving the lives of women and families in Missouri. Dr. McB also ran for public office in 2002 as State Representative in Missouri. She earned her doctorate in Textile and Apparel Management at the University of Missouri. She completed her master's degree in consumer behavior and holds a bachelor's degree in fashion design.
---
Research Interests
Dr. McB's research interest is to explore the intersectionality between apparel and disability by identifying the apparel barriers that limit the ability of people with disabilities to participate in society fully. Her research is interdisciplinary in that it moves beyond textile and apparel and embraces overall design theory, disability theory, studies, and supply chain integration. Dr. McB sees her research as a way to build a relationship between the apparel industry, people with disabilities, and academic scholarship. She has published over 40 research papers in various international peer-reviewed journals and conference proceedings on adaptive apparel to sustainability topics. She has also received numerous awards for teaching and design excellence from international conferences.